Exciting things happening at Arenal Volcano!
Not in terms of an exploding volcano (!), but in terms of all the Arenal tours available in the area. Any tourist ­would be hard-placed to find another location with such a wealth of things to do! A tour of the Northern Lowlands of Costa Rica brings you to two of the most spectacular treasures of South America: Lake Arenal and Arenal Volcano. Comfortably cushioned between rolling hills and forested slopes, the area draws thousands of visitors wishing for superb scenery, top attractions, great hotels, and exhilarating activities!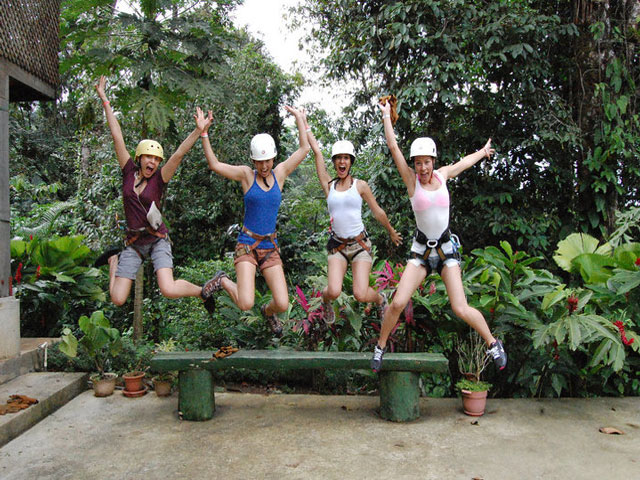 There is plenty to keep a tourist happily busy doing Arenal tours for more than a week. Apart from the lake and volcano, there are many hot springs with their enticing promise of rejuvenation and relaxation and adventure tours such as Whitewater rafting, canyoneering, stand-up paddle, kayaking, bird watching, wildlife safaris, waterfalls, mountain biking, horseback riding, canopy tours, and Arenal Volcano hiking tours. Just to name a few! 
Whitewater rafting is particularly popular in the area for beginners and for more experienced rafters. Who can resist the excitement of going down rapids with names such as ´Rock around the Croc" and the "The Washing Machine"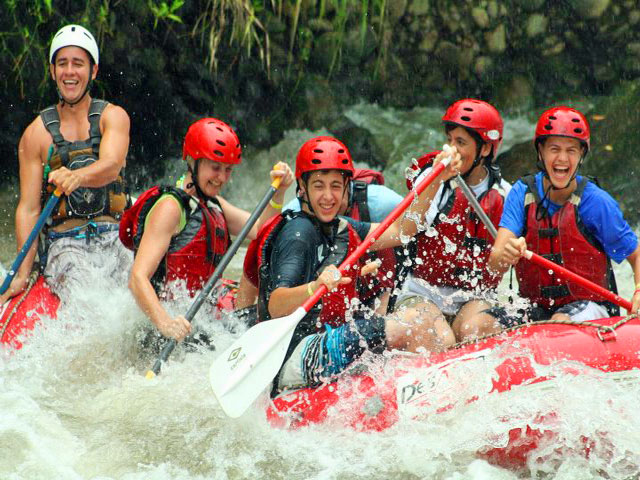 Many a visitor challenge themselves to a canyoning (or canyoneering) tour which is fun and safe for first-timers. Imagine repelling down a waterfall in a magical forested canyon!
Bike tours in Arenal include dirt and gravel trails around the lake which provide the intermediate bike rider with an enthralling experience and breathtaking scenery. For an alternative bike ride experience there are more relaxing rides through rolling hills on the north side of the lake.
The Hanging Bridges with its 15 suspension bridges that encircle the rainforest is a great place for bird watching. Naturalist guides can be hired to point out species of birds such as Toucans and Hummingbirds and explain the ecology of the forest.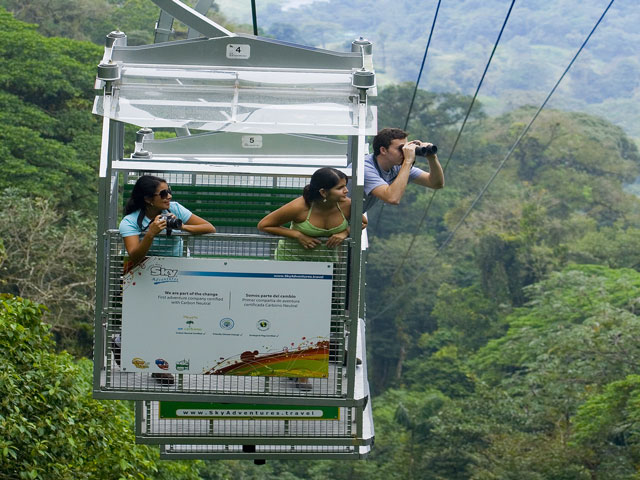 Arenal National Park is home to ostentatious natural beauty considering the dense rainforests and abundance of wildlife present. Visitors can take delight in spotting white-faced monkeys, deer, coati, toucans, and other tropical birds. A guided hike to learn about the history and vegetation near the volcano is always recommended. You can also do a combo tour and included the hot springs!
Canopy tours are a source of adventure and fun for all ages. These tours prove to be a favorite with tourists as the unbridled breathtaking views from above the forest; river and volcano are unrivaled and irresistible. Popular in the area are the Skytrek, Arenal Paraiso, and Arenal Vista canopy tours.
After all the dizzying adventures a leisurely drift down the Penas Blancas on a safari float presents a picturesque panorama of the surrounding beautiful natural charms. The smooth slow flow of the river is ideal for spotting wildlife. Monkeys, tropical birds, iguanas, and caimans are part of the long list of species to be seen.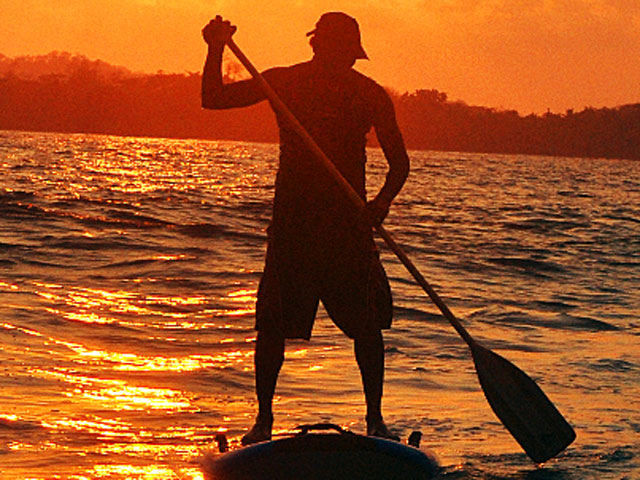 You might also consider a day trip to Caño Negro, often called a ´mini´ Tortuguero where you are guaranteed to see wildlife.  Or travel to the amazing turquoise-colored river and waterfall of Rio Celeste.
Fishing enthusiasts have much to celebrate on visiting the area. Rainbow bass is in abundant supply and offers fishermen an exciting challenge to test their skills toward the ultimate catch.
We hope this helps you to include Arenal in your next trip to Costa Rica! After all who can resist the fun activities and Arenal tours?